Valley of Lakes saga reaches a milestone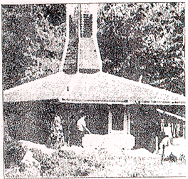 A security guard mans the Route 924 entrance gate to Valley of Lakes earlier this week. The guards missed two shifts a few weeks ago, but the developer since has obtained a private loan to staff the gates around the clock. (Photo by David C. Haupt)
By TONY GRECO
Standard-Speaker Staff Writer
Exactly one year ago, the Valley of Lakes' developer said he would obtain financing to resume operation at the struggling resort and housing complex "very shortly."
Identical statements were made in September, and again in December, convincing the Luzerne County sheriff's office to postpone a sale of the 4,000 acre property in a lawsuit filed by a regional bank.
This week, with a hearing in U.S. Bankruptcy Court only days away, an attorney for CBG Limited again promised that financing would be in place shortly to satisfy its debts, including $25 million to PNC Bank.
Two citizens' groups - one that has existed since 1976 without being recognized by CBG's managing general partner, Frank M. Cedrone, and one that he authorized only recently - are awaiting the outcome.
"All we have ever said is we want what we paid for. That's our purpose, our aim," Ray Dongelewicz, president of the Valley of Lakes Civic Organization, said.
"We don't care who's going to give it to us, but give us what we paid for. Give us the lake that's not in, give us the water, the sewers. Give us the golf course (Cedron) has promise. All of this in writing."
A federal class-action lawsuit that lists Dongelewicz as principal plaintiff has been filed against CBG and First Eastern Bank in Newark, N.J.
It alleges CBG and its affiliated companies have engaged in a pattern of racketeering, which included false representation on the golf course, a man-made lake, and water and sewage treatment systems that were promised to lot buyers but never completed.
Attorney Roger S. Antao of New York, who filed the legal action, said CBG's success in refinancing will not change the plaintiff's position.
He noted that one of the named plaintiffs died last month. "Any future financing," he said, "is not going to make any difference to him."
The development spans four townships in Luzerne and Schuylkill counties. It has been troubled financially for some time, and last spring CBG and six affiliated companies filed for protection from their creditors under Chapter 11 of the U.S. Bbankruptcy laws.
CBG's attorney, Frank Hoegen of Wilkes-Barre, said an agreement has been signed with a lending source, which he referred to as a "financing group," in London.
"We're working out the details of that right now," he said. "Then, we hope to be in the position to file a plan of reorganization in the next three to four weeks."
Hoegen said a few conditions remain to be resolved, but expects everything to be finalized early next week.
In fact, he is hoping that a signed agreement can be presented to the court at Thursday's hearing, "with an understanding of the bank having a foundation laid for a plan of reorganizatino."
He also said it is possible that the lender and its legal counsel may be present for the hearing, which begins at 10 a.m. before Judge John Thomas in the federal courthouse on South main Street, Wilkes-Barre.
The judge will hear arguments on whether CBG's case should be converted to Chapter 7, in which the U.S. trustee would take over the companies' assets and either sell them or assume control of the operations.
The motion, filed July 2, 1993, states that CBG and four affiliates "have not filed acceptable plans of reorganization or disclosure statements... and appear unable to rehabilitate their affairs."
Dongelewicz said he has "no reason to believe" anything positive will happen at the hearing. "This goes on and on. It's one of the reasons why the people are so upset," he said.
"We're in our third year of Chapter 11 bankruptcy at this point. How much time can you give a person in Chapter 11? In a condition like this, this place just keeps standing still, CBG remains the debtor in possession, they've never filed a reorganiztion plan with courts."
Cedrone blames VOLCA for some of his money problems, and said it has initiated a campaign in which residents are withholding their maintenance fees.
He would not specify the amount that is owed, but other sources have said it is $500,000.
"The bulk of (the problems) is due to misinformation, rumors, innuendo and absolutely false information distributed by VOLCA," Cedrone said.
"My main concern right now is the safety and security of the Valley and its residents, and getting the property back on stream again."
He recently authorized creation of the Property Owners Association of Valley of Lakes.
"These are people who have proven, first, their care and concern for the property and its resident, and everything we have attempted to do so far," Cedrone said. "They represent, by actual count, better than 97 percent of the property owners."
Tom Pierson, the group's secretary-treasurer, said Cedrone is the only person authorized by the Valley of Lakes' covenant to permit formation of a property owners' group.
Pierson said a few property owners are "preoccupied" with replacing Cedrone, but that it is not the majority opinion.
"We feel that, number one, Frank Cedrone is here, he is a developer, he does own the property," Pierson said. "he is in financial problems right now. but nothing we can do personally or as a group can influence the outcome of his refinancing with the bank."
He said a lot of people, including bankers, have told property owners that Cedrone "is the best hope to salvage the valley, and come through with all the infrastructure he promised."
The new group actually was organized informally in 1992 - as Friends of the Valley - by people who became unhappy with VOLCA and its agenda.
"We came out very strongly in (favor of) paying the maintenance fees, because that is one of the direct reasons that the guards are in place and the roads get plowed," Pierson said. "We did not want to see the essential services cut down."
Dongelewicz denied that VOLCA told property owners to withhold their fees.
On the contrary, he said, the civic association cited "recent positive developments" in a letter to them in January and recommended "everyone pay their fees." But the letter also gave directions for residents to send the fees to MLA, a management company hired in 1992, rather than to CBG directly.... [***]
...in the maintenance fees caused the security guards who staff the development's entrance gates around the clock to miss two shifts. They have been on duty ever since; CBG, according to Pierson, obtained a private loan to pay them.
Hoegen, CBG's attorney, said Cedrone only has laid the foundation for a property owners' group, because nothing official can be done until a reorganization plan is approved by the bankruptcy court.
VOLCA, he said, "can certainly try to oppose it, but the covenants and restrictions governing the development specifically delineate how a property owners' organization will be formed." And that process, he said, is solely in Cedrone's hands.
On thing that VOLCA isn't happy about is the financial arragement between Cerone and the Property Owners Association.
Pierson said the covenant states that the developer will collect 20 percent of all gross maintenance fees for 10 years once he hands over control to the association. That is very common, he said, especially in the case of Valley of Lakes, since a lot of property there hasn't yet been developed.
Dongelewicz, however, claims VOLCA already has legal status as a non-profit organization under state law, even though it has not been recognized by Cedrone. "We pre-date CBG," he said, "and we have been here, VOLCA, in the times of crisis years ago, was really running this place."
The 66-year-old resident came from Maryland for what he hoped would be a quiet retirement.
"Personally, I moved here to play golf and enjoy my retirement," he said. "I don't need all this crap. All I've done since I've been here is fight for what this developer said I would have. He hasn't provided any of these things."
Dongelewicz acknowledged that he isn't as bad off as other property owners - he calls them the "have-nots" - who bought properties fronting a man-made lake that never was built, and don't even have water or sewer systems, or roads.
Antao, who filed the class-action suit June 17, said Lake Algonquin and an 18-hole golf course designed by Arnold Palmer, along with the infrastructure, were to be completed in the late 1980's. "People can't wait forever to have these things finished," he said.
In a press release announcing the legal action, Antao said First Eatern Bank "has assisted the developer every step of the way," and has undertook its actions to conceal the alleged racketeering activity prior to its takeover last month by PNC Bank Corp.
Hoegen said he could not comment on the lawsuit because the papers have not yet been served. That must be done within 90 days of its filing, according to federal law.
"I would love to respond. We intend to respond," he said, "but I can't respond if I haven't seen it."
Karen Shonk, a spokeswoman for PNC Bank, said "it assumed all of the assets and liabilities of... [***]
...merger. But she declined to comment specifically on Valley of Lakes because the case is in litigation.
Cedrone believes the banks' merger is a positive sign for CBG Limited.
"I would hope that the cooperation that we get form (PNC) would be the kind that would benefit not only the Vally of Lakes and its people, but the entire region," he said. "And I have every hope that would be the case."
As for the refinancing, he said the process is "tedious" but is confident it is moving forward.
Pierson, and certainly other residents, hope that is true.
"He's said this before and deals have fallen through, so everyone is just cautiously optimistic. When you've got banks involved and attorneys involved, who knows what's going to happen next," Pierson said.
"We just want to see the whole thing over with. We just want to get this place moving again on a positive not."
Here's the chronology of resort
Valley of Lakes is a 4,004-acre residential and resort area that spans portions of Hazel and Black Creek townships in Luzerne County, and East Union and North Union townships in Schuylkill County. It is located approximately eight miles southwest of Hazleton.

The complexe once included Eagle Rock Lodge and Ski Area, a restaurant and an equestrian center, with plans for an 18-hole golf course designed by Arnold Palmer and a 260-unit townhouse development. It also has lakes for boating, fishing and swimming, riding trails, a campground, playground, beaches and a picnic area.

At one time, 150 people were employed at the complex, with seasonal part-time workers doubling that figure. Security personnel continue to staff gates at its entrances around the clock.

The development was first announced as a $12 million project in the late summer of 1971. Four years later, it was purchased by High Vista Inc.

CBG Limited assumed ownership of the complex in late 1986. Frank Cedrone acquired full control of the partnership in the spring of 1989.

On March 22, 1992, CBG filed for Chapter 11 bankruptcy protection, followed in the next month by six affiliated firms: Eagle Rock Ski Area; Ravens Runs Equestrian Center; Trachele Inc. and Chez-Rael Inc., both identified as resaurant operations; Valley Utilities Co., which provides sewage treatment for the housing development, and Oneida Water Co., which provides water service to the homes.

The U.S. trustee on July 2, 1993, asked that the case be converted to Chapter 7, in which the trustee would take over the companies' assets. A hearing on the motion has been postponed twice, and now is scheduled for 10 a.m. Thursday in U.S. Bankruptcy Court, Wilkes-Barre.

A Luzerne County sheriff's sale of the entire property also has been postponed twice. That sale would have settled a lawsuit filed by First Eastern Bank (now PNC Bank), which is owed $25 million by CBG.

According to court papers, CBG also owes $216,514 in property taxes to the four townships and $146,020.38 to the Internal Revenue Service for federal witholding tax. Other creditors include RCP Construction Co. of West Paterson, N.J., $718,164, and Arnold Palmer Golf Management of Cleveland, $439,373.07.

An attorney for CBG Limited said this week that he expects a refinancing agreement to be finalized by Thursday's court...