Eagle Rock shuts down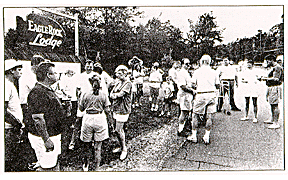 About 100 Valley of Lakes residents gathered at the Route 924 entrance to the development Friday to protest its closing, which they later learned was done because CBG Limited, the development's owner, had to lay off 73 of its 93 employees after it failed to get the emergency financing it needs during the firm's Chapter 11 bankruptycy...
By JIM DINO
Standard-Speaker
Staff Writer
The failure by owners of the Valley of Lakes development to obtain interim financing during Chapter 11 bankruptcy proceedings has resulted in the layoff of 73 employees, and the temporary closing of the Eagle Rock Lodge and ski area and the Route 924 entrance into the development.
About 100 residents upset with the closing of the Route 924 entrance -- which is also the access to the Eagle Rock lodge and restaurant - gathered there Friday night to protest the closing, which was done without notice a few hours earlier.
Frank M. Cedrone, managing general partner of CBG Limited, the development's owner, told the residents that the failure of the firm to obtain the interim financing caused him to lay off 73 of the firm's 93 employees Friday -- including most security personnel who man the entrarce-exit gates.
That forced the closing of the Route 924 entrance.
Last week, Cedrone said Judge H.J. Thomas ruled in U.S. Bankruptcy Court in Wilkes-Barre that there was not a "sufficient equity cushion" to guarantee $3.5 million in interim financing the firm was seeking from First Eastern Bank, through Kennedy Funding Inc. of Hackensack, N.J., a lending firm that deals in bankruptcy proceedings.
Since the ruling, Cedrone said CBG has been trying to obtain emergency funding to maintain its operation. With those efforts going for naught, ...