For Now, Eagle Rock slopes staying closed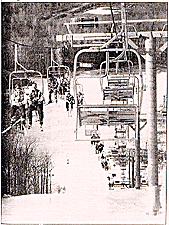 By TONY GRECO
Standard-Speaker Staff Writer
The developer of Eagle Rock Resort doesn't know if skiers will take to its slopes this season.
With the resort and the adjoining Valley of Lakes housing development under Chapter 11 bankruptcy protection, Frank M. Cedrone stressed that the ski area will not open until adequate financing can be obtained.
"I don't intend to operate half-heartedly in any way, shape or form," Cedrone, managing general partner of CBG Limited, said Tuesday.
"If the funding gets in place, fine. If not we'll skip this season. ... I want to make sure the quality and safety are there, and that we give the people what they are accustomed to."
The ski area in East Union Township employed about 150 people, Cedrone said, including a few who were full-time workers.
Buildings have been winterized and the lift equipment has been sealed to prevent its operation, he said, but it would only take a few days to return them to service.
The slopes could open partially after a week of intensive work he said, and be fully operational in two weeks.
"The (skiing) season really doesn't kick off until Christmas, so we have a few more weeks of discussion," Cedrone said. "So who knows?"
He had considered leasing the ski area to a private operator. But he didn't want to commit the resort to a long-term agreement, and was afraid a short-term lease would not be successful.
"The most important thing," he said, "is having quality staff, quality operation and quality (ski instruction) school in place."
Cedrone said the resort has received "hundreds of calls" - many from people who haven't skied Eagle Rock before - about its prices and schedule.
He's upset that be can't give them a definite answer.
Last winter was one of Eagle Rock's best since it opened for skiing, and business "was going through the roof" near the end of the season, Cedrone said.
"Everybody that skied there loved it. We got rave reviews on the quality of instruction, and that's what we w
Forecasts of a cold winter and abundant natural snow had this season looking even better.
CBG Limited is refinancing its debts at Eagle Rock and Valley of Lakes through the First Eastern Bank.
Cedrone, when filing for Chapter 11 protection last March, said he hoped it would signal "the start of a full-scale resumption of operations."
But things got worse before they got better.
In July, one of the Valley of Lakes' entrance gates was closed when security personnel were furloughed. Residents volunteered to man the gate in four-hour shifts to keep it open 16 hours a day, and also assisted the guards in patrolling the development.
That crisis only lasted four weeks. But it led to the formation of a property owners' committee, called Friends of the Valley, and increased communications between management and residents.
"We have had excellent support from the property owners' group," Cedrone said. "In an emergency, they'll assist with security, they'll assist with maintenance. They're good people."
Valley of Lakes now is providing full-time security 24 hours a day, Cedrone said, while the maintenance department and water and sewage systems are fully operational.
He said road paving and water and sewer improvements are being made on an emergency basis only.
The financial troubles also have stalled construction of a golf course desiqned by Arnold Palmer and a 260-unit townhouse development.
Eagle Rock Lodge is accommodating weddings and banquets that had been scheduled before the financial crunch. Cedrone said he received "a number of offers" to buy the lodge, but turned all of them down.