Valley of Lakes residents oppose 400 pct. rate hike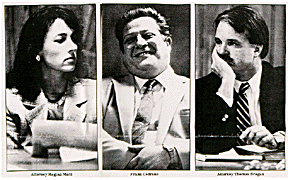 PICTURED:
Left - Attorney Regina Matz
Center - Frank Cedrone
Right - Attorney Thomas Brogan

By JIM DINO
Standard-Speaker Staff Writer
Valley Utilities claims it will not be making money if its gets the almost 400 percent rate increase it is asking from its customers.
But several Valley of Lakes residents told the state Public Utility Commission Saturday the rate increase is still too much at one time.
The PUC held a public hearing into the request to raise the rates Saturday afternoon at the Oneida Civic Center.
Administrative Law Judge Louis Cocheres conducted the hearing, at which several residents of the resort development, many of them who live there only on weekends, had the opportunity to testify about the increase.
In addition to Cocheres, also on hand for the hearing were attorney Tom Brogan, representing Valley Utilities; lawyer Regina Matz, a Hazleton native who is part of the PUC's trial staff, and Lois Burns and Pamela Bishop Sarvey, lawyers from the state Consumer Advocate's office.
Valley Utilities, the company that owns, operates and maintains the sewers in the development, is owned by CBG limited, the same owner as Valley of Lakes.
The utility company is asking the PUC for permission to raise rates from $18 to $100 per quarter.
Even though the rate increase is large, Brogan said the firm will only be gaining 5.88 percent, while it has been operating at a 10 percent deficit since taking over the development and upgrading the system three years ago.
Neverless, Valley of Lakes residents were unanimous in their opposition to the rate hike.
Many of the property owners have not yet built homes on their lots and are being charged for sewer availability. Those who testified were mostly from the Philadelphia area.
Sarvey said in its request, Valley Utilities said it is asking for an additional $131,620, while it claims it is entitled to $190,555.
The percentage of the rate increase was calculated on a sample year, 1988. However, many of those who testified said the potential number of customers should be considered, and commercial customers, like the Eagle Rock Lodge, should be billed at a different rate to lessen the burden on residential customers.
One who held that opinion was Walter Kalla of Pennsauken, N.J., who said he bought his land for a home he plans to build when he retires in five years. He said the increase requested is too much for anyone to assume at one time.
"I'm just like anybody else, with bills up to here," Kalla said, gesturing over his head. "You plan for things, but you don't plan for your bills to go up this fast. I love to do everything you can do at Valley of Lakes. But I don't know if I will be able to afford it. It (the rate hike) should be incremental. It shouldn't be raised this fast."
Frank M. Cedrone, managing general partner of CBG Limited. said the firm is not looking to make money on the increase.
"We are responsible to serve the community," Cedrone said of the utility company. "We are not looking to make money on waste. It (the increase) should have been $200 a year higher."
Robert Wendt of Emmaus, who also owns land but has not built yet, said the total number of customers should be calculated.
"You are looking at a static number," Wendt said. "You should develop a plan for the number of units that are going to be installed. You should be prospective."
Chris M. Calbert of Mitchellville, Md., who owns property but has not built yet said he didn't understand how Valley Utilities arrived at the rate increase figure, when the firm doesn't know how much water will be used by residents.
"How can you ask for a return on a system that is not complete?" Calbert asked.
Brogan said when a utility seeks a rate increase, it bases the request on its number of cutsomers in a sample year. PP&L, for instance, asks for rate increases all the time, but its system is never theorhetically complete, because it is adding new customers all of the time.
The rate increase does not include the cost of constructing thesystem, Brogan said. He said the rate was based on 1988, when the system had 50 customers. Under that formula, Valley Utilities could have asked for an 11 percent rate increase, but is seeking only 5.88 percent.
Calbert, who said he has owned property at the development since 1973, also contended property owners are being asked to pay for debts of the former owner.
But Cedrone said CBG has assumed those debts, and has made improvements to the system in the three years CBG has owned Valley of Lakes, without asking for a rate increase until now.
Edward Leiby Jr., of Willow Grove, who lives at his home on weekends only, said the increase is too high for those people.
"I love this place, and I think I made a good investment," Leiby said. "I'm interested in the total and complete success of Valley of Lakes. But I'm only up here one or two weekends a month. Is it fair to charge the same rate to me and someone who is here 100 percent of the time?"
"I feel you charging small commercial establishments and residential customers the same is not fair," he said. "I feel it is a totally unfair rate, when the commercial establishment at the top of the hill."
Thomas Marcheski, who lives at Valley of Lakes year-round, said Eagle Rock lodge will bring a lor of people into the development, which will place a larger burden on the system than a single residence would.
"That lodge has the potential to attract 5,000 skiiers," he said. "Should they (the lodge) pay anywhere near what residents should pay?"
Marcheski also said he polled other similar developments.
Pocono Country Place, a development in the Poconos, charges $47.31 per quarter. Arrowhead Lakes, another development in the Poconos, charges $55.11 per quarter. And Cove Vacation Village, Valley of Lakes' neighbor, charges $40 per quarter.
Joseph Natale, another year-round resident, said customers of the Greater Hazleton Joint Sewer Authority are charged $100 a year, while people in the Mountaintop area pay $200 per year.
Other weekenders said if the increase is granted, they will be paying more for their weekend home than they do at the permanent residence.
Joseph Masterson of West Chester, said he pays $140 a year at home. Selma Shandler of Broomall, west of Philadelphia, said customers should be charged according to how much they use the system.
"It should be based on usage." she said. "If it (the request) is granted, I will be paying two-and-a-half times as much here as I do at home."
Cedrone said he also pays less at his home in Marlton, N.J. "But I hired an expert to tell me how much I should charge." he said. "The system that was in when we took over was polluting well water. We are not asking for losses over the past three years, but we have mad a substantial investment in upgrading the system."
"Marcheski also asked if customers are being charged a tap-on fee. Cedrone said they weren't, but because contractors were damaging the system when installing curb-to-home hook-ons, Valley of Lakes took over installing the curb-to-home lines, so that the damage would stop. Homeowners were then charged for that installation, he said.
Cocheres said Saturday's hearing is part of the first round of what will be three rounds of hearings.
Another hearing is slated for Tuesday in Harrisburg, which will be the site of the rest of the hearings. Other hearings will be held Nov. 8-9, and Nov. 27-28. During those hearings, the PUC trial staff and state Consumer Advocate's office will testify on the rate increase request.
Cocheres said after the hearings the PUC will take all testimony into consideration before rendering a final decision in March. A decision is due nine months after a rate increase request is made, and Valley Utilities made their request in June...